Ice on Fire and ShowelRace Sigulda overview.


Statistic - 6758 times
Publication date - 2016.03.12.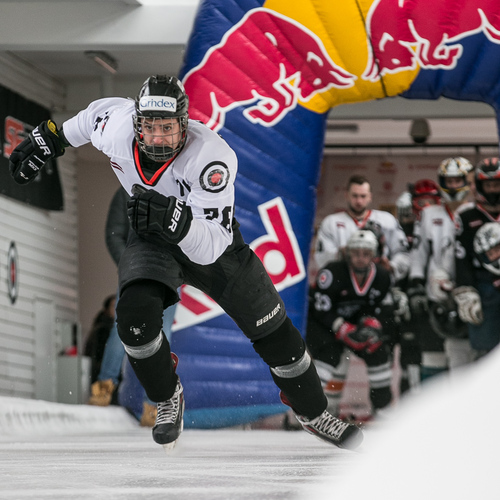 Like every year, winter sports season in Sigulda ended with a splendid show. This year it hosted an international event having competitors from 7 countries - Germany, Switzerland, Finland, Russia, Canada, Great Britain and, of course, Latvia. This year, for the first time in world history during the Ice on Fire or Open European Championships athletes were skating down the bobsleigh track.
All this gave the season closing a very serious meaning due to many willing to be the first ones in history. Both Ice on Fire, as well as ShowelRace competitions took place after the "knockout" (KO) or play-off principle. After qualification results the participants were divided into pairs. Whoever shows better result excludes the other participant from the next round.
This race format acquitted on its expectations as every run had to go to all -in and full risk, making the race more interesting and richer in tension for both- viewers and the riders themselves. Now to the race itself.
Let's start with ShowelRace women. First round's most serious fight turned out between Zane Sedlova and Ilze Kaire, and Aija Ambrasa vs Marite Brice as well as between Ance Berzina and Elza Ozolina. These play-off pairs during the season were the closest. In the second round of the main surprise belongs to Gunita Balode, eliminating Kintija Horelika. Although Gunita always added to the favorites during the season, Kintija self-assured as a stronger rider and very inconvenient opponent directly for Gunita. This time Gunita managed to rehabilitate and win. In this experience and youth duel experience won.
Finals Top4 divided between Turauska, Jankava, Balode and Zvirbule. End of season prooved to be not too successful for Zvirbule. As one of the main favorites during all season, she was not too successful in finals. Vgunita Balode was stable troughout her runs just barely losing Ance Jankava and in the end- well deserved 3rd place! Ance Jankava once again in second place. Again Turauska wins everything that can be won without options.
In doubles main surprise was Saukāns / Eglītis a power of two took victory over Sedlova/ Zvirbule.
Rating of Sedlova/Zvirbule being much higher than her teammates – the lower won. The second round has turned out to be much tighter. The highest competition was inbetween Jurgels/Balode and Horeliks/Horelika. During the season Horeliks couple was convincingly better. This time too- 6 tenths of a second in advance. We canot skip to mention the Turausku couple of incredible results and abnormal speed. In the second round they achieved 83,7km / h!
In finals intrigue was running high. If Turausku pair had no doubt about the victory, the remaining four were divided into a close battle. Between 2nd and 4th place the margin was a mere 34 hundredths of a second!!! First Kairi called out 1: 00:04, then Krēmanis with Berzins answered 1:00:38. Horeliks/Horelika lost to Kairi couple by 3 hundreths. At the end of 1: 00:07 and third place. Again, to blink an eye, requires 4 hundredths of a second.
And the men startup. Royal men's discipline was the fullest of surprises. Nerves yielded for not a single one of the leaders and favorites. The greatest surprise and sensation took care of season standings winner Aigvars Eglītis, who experienced the first wave of a solid fall and in an unexpected duel he lost to Maris Berzins. The second surprise could be seen by Davis Poska good performance.
In the first round of Davis ordered the disturbance to Jānis Bērziņš. In the second round Davis continued to terrorize opponents and excluded from further fighting Maris Berzins. Also, veryconvincing was Māris Staņa who's end of the season seems to have regained a second wind. But the greatest surprise was Kristaps Turauskis, who not only managed to exclude Andris Stikāns but also showed almost two seconds better time as the closest followers. Men discipline was also the only one where to determine the winner needed four rounds. The third round without any special surprises. All the favorites won their duels and were preparing for the final. Turauskis, Krēmanis, Kairis and Horeliks. The final tension-examination passed between Kristaps Turauskis and Mareks Kairis, who divided between gold and silver. Winner of the duel was Turauskis. Maris Staņa managed to keep the lead and kept in position 3, taking bronze away from Horeliks.
And now the dessert - European Championship skating down the bobsleigh track. Very long and hard Redbull Crashed Ice season took its toll on several leaders and key applicants on the podium. Qualification of future battles withdrew the Russian and French representatives. So race itself was set inbetween Germany, Finland, Switzerland and the Latvian representatives. Latvians biggest expectations were associated with Armands Tripāns and Toms Elnionis, but they were not at all
the only ones who were able to show serious resistance to Redbull Crashed Ice riders. In fact, quite the contrary to forecasts, it was Tripāns with Elnionis unexpectedly departed in the first round. With each round with a better performance was showed by Jāniis Jasenovičs, Pauls Krūmiņš, Marians Purmalis and Toms Nulle. Unfortunately exclusion principle is very harsh and, having a very strong opponent in the first rounds, many of Latvians were quickly eliminated, but it also made the race so exciting.
The second round quickly set the main favorites- Kilian Braun of Switzerland, Paavo Klintrup from Finland and Philip Auerswald from Germany. It is these three gentlemen were also those who divided the medals between them and in 3rd stage removed the last of our own Latvian riders. Latvian Jānis Jasenovičs turned out to be the fastest of locals and ranked 5th at the end, resulting in the possibility to represent Latvia in next season's RedBull Crashed Ice stage in Finland. Pauls Krūmiņš, also presented the ability to penetrate TOP6. Even before the qualification Kilian Braun did not hide his intentions, that his goal is victory and nothing else. His promises Kilian filled with honor, because in none of the runs there were no doubts about his victory. Somewhat unexpected could only be Philip Auerswald victory over Paavo Klintrup since Paavo is TOP5 RedBull Crashed Ice rider and only a lack of bobsleigh track experience as well as small nuances stopped him to win the German.
So Kilian Braun became the first European champion in history in skating down the icy bobtrack. Silver went to Philip Auerswald (Germany), while the bronze owner was Paavo Klintrup of Finland.
Many thanks to all those who helped it all happen. Especially we want to express our gratitude Sigulda bobsleigh, skeleton, and ShowelRace Skating track that not only allowed it all to happen,
but also it invested a huge job, so everything could happen. Sigulda City Council for the great contribution to the competition organization and, of course, our largest sponsor Optibet who were the main supporters of this idea and did all that they could for this championship to take place. As well we would like to thank SEBA, CAT, RedBull, Sportland, Fiskars, etc. for supporting and for the invaluable contribution to the competition venues.
Subscribe to news letters